I recently got married at age 30 to an incredible Norwegian man after a long season of waiting for the right one. When you're falling in love, sometimes you just want to listen to love songs that express your feelings. Yet these days it is so hard to find sweet love songs with good values. I miss the Frank Sinatra era and the pure charm in the music. Since I'm a singer and songwriter, as I made my way through the different seasons of waiting, dating, and finally marrying my husband, I wrote many songs. I was only familiar with writing worship songs, but I felt God's nudge for me to write from my process of finding love and to be a voice of Truth in this area of love. Writing love songs isn't an un-Christian thing to do. There's a whole book in the Bible (Song of Solomon) that is one long love song!
We shouldn't be ashamed of our loving feelings toward our spouses or those who will become our spouses. And we shouldn't be afraid of listening to music that expresses those feelings. I have been to some wedding receptions where only worship songs were played. Maybe it was because they couldn't find good love songs, or it was because they were afraid of playing secular love songs. Of course at a wedding it is a beautiful time to worship God, yet I believe God is also rejoicing over the marriage. Marriage is a beautiful reflection of God's love and commitment toward us. He even calls us His Bride. He tells the husband to love his wife and lay down his life for her just as Jesus loves us and gave His life for us. (Ephesians 5:25) If we as the Bride of Christ are singing love songs to our Bridegroom, Jesus, and God is singing over us (Zephaniah 3:17) then shouldn't we also reflect that in our relationships and marriages? Shouldn't we also be singing and expressing our love to one another? I believe Solomon showed us a very important key to keep the fire and passion burning in our marriages.
I love how Solomon expresses his passion and deep love for his bride through song. Many theologians have even written devotionals saying we can look at this romantic relationship between two people and grow deeper in our revelation of God's love. God used Solomon's intimate song to display His intimate love for us.
The world has painted the portrait of love to be selfish with an attitude to just get what you want out of a relationship, and when the person no longer meets your needs, you can end it and move on. Listen to the latest hit songs and the messages they carry. Some are not too bad, and yet so many are telling us to do the very opposite of what Christ modeled for us. "Love is patient; love is kind. It does not envy, it does not boast, it is not proud. It does not dishonor others, it is not self-seeking, it is not easily angered, it keeps no records of wrong…" (1 Corinthians 13: 4-8)
Music has the power to influence our emotions, our patterns of thinking, which eventually affects our behaviors. I know many us understand this, and some stay away from music all together that isn't directly about God. I don't think that is the answer either. In some secular songs I can hear God's voice speaking through the music using artists that don't even believe in Him. But I believe the majority of the mainstream music is missing a crucial piece. It's missing purity and honor in love that needs to be heard.
Early French Philosopher, Blaise Pascal said, "It's not those who write the laws that have the greatest impact on society; it's those who write the songs." It is very obvious today to see how this is true and how music and media shapes our society.
So this year I released an album that's very different from my previous work. It took quite a lot of courage to put something so personal out into the world. What makes it even more personal is that my husband, Ole Martin Kolsrud, appears on a few songs singing with me. My goal is to give people songs to sing when they are waiting for their future spouse and needing to hang on to hope, when they are falling in love and wanting to express their hearts, when they are making a commitment of a lifetime, and when they need to keep the love alive after years of being married. You can find my new album titled Live Love Dream, on iTunes.
Have you ever written a love song? This week, find some time and channel your inner Sinatra. Write a love song (or at least a few lines) that is fitting for the stage of love that you are in. Are you waiting? Write something to your future spouse. Are you in love? Express your feelings. Are you married? Remind your spouse of the reason you chose them and why you love them so much. Let's bring some of that pure charm back to our love songs so that God's nature of love would shine through our marriages.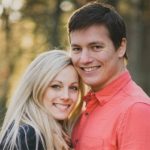 As a wife, worshipper, teacher, songwriter, musician and most importantly a lover of Jesus, Mary Elizabeth Kolsrud is known to be a positive, cutting-edge voice to nations, the church & this generation. With her new album release: Live Love Dream, Mary Elizabeth pulls on the heart strings celebrating love, relationships, making right choices, and waiting for the right one.
See Author Profile
But wait, there's more...