Many of us have a complicated relationship with the Bible. I am one of those people. 
I have been on a soul journey lately. I started therapy and am starting to dig deep into my personal history. As I am doing the hard, necessary work of processing pain from various life experiences, questions come up. Doubts arise. Questions I can't ignore anymore. Tension I must finally face.
As I have committed to this journey, I have changed more than I could have imagined, but to my pleasant surprise, I have found that God has remained the same.
God, in his infinite kindness and grace, is not threatened by my endless questions or shaken by my doubts. I have found he is confident that I am securely held in his grasp. And his confidence is finally rubbing off on me.
We are all on a faith journey. A good long walk. A marathon with God. Throughout our journeys we will experience bumps, valleys, or deserts even, and in this particular season, I am learning to live in the tension. There are many things in the Bible I struggle with, that don't seem fair, that don't seem loving. Things I am not sure I want to believe because I have seen people use them to harm, guilt, and further marginalize others. As I held so many questions, I found it hard to also hold firmly to Scripture.
Can you still believe the Bible even though it leaves you with lots of questions? 
I think the answer is, we have to. 
At the start of this self-reflection process, I chose to distance myself from Scripture. Past wounds stung too deep, and lies spoken over me billowed loudly in my head. I shut everything out. Even pushing Jesus away, keeping him at what I thought was a "safe" distance. 
Through those days, I learned I felt like an untethered balloon, floating aimlessly above with no real home. I have got to say, this was a miserable way for me to live. This misery went on for the better part of a year. I didn't feel like myself. I didn't know who I was. If I'm honest, some days I still don't. Recently, I made the desperate choice to attend a church service at a liturgical congregation, and I was reminded of my great need and was grounded for the first time in way too long. 
Little did I know, I was tethered all along. God pulled me down and set me back on solid ground. As we read aloud prayers based on Scripture, listened to Bible passages read over us, kneeled to ask forgiveness, broke the bread and drank the wine, I felt my soul drinking deeper than it had in months. These rhythms are who we are and are essential to the health of our souls.
The words of Jesus ground us. They are our home.
They are a safe place to land. Even when we may not want the word of God, we need it. We have to have it. We may just need to get creative about it sometimes. Engaging with God's word during that service in that way changed my pace, slowed me down, stilled my fears, and filled me up. 
You may be in a place of questions and doubts. Know that is okay. Good, even. It is a sign of authentic, growing faith. Questioning shows you know God personally and are giving him a chance to answer you. It reveals that your relationship with him is too important to you to have misconceptions or believe lies about Him.
But how can you change up the way you engage with the Bible in this season when you might be distant? Here are some things that are helping me:
Ask. Ask. Ask. Get out your Bible, journal and pen. Let it all out. God wants to hear and can handle your questions. Whip out the passages that mess with you and unashamedly bring them before him. Draw near to HIM in this season rather than pulling away or going numb. "God's there, listening for all who pray, for all who pray and mean it."

-Psalm 145:18 (MSG)

Read through the Last Supper passage and take communion on your own at home.

My particular favorite Gospel account of it is Matthew 26. You can also find it in Luke 22.

Practice praying the Psalms. David's prayers are a rich place to turn in hard times. He was not afraid to cry out and ask why. David's prayers will allow you to be authentic as you pray the Bible aloud. Psalm 13 is a great place to start. Sit in the discomfort of your questions and doubt. But allow God to come in and meet with you there.
Engage in safe conversation. Find a close friend or community and read through the word of God together. Bounce thoughts and questions off each other. Be safe for others and ask for safety in return. It's so important that the Church of God be a place that cultivates true growth and curiosity.
Most importantly, do not rush yourself. And be sure to offer yourself the same kind of grace God does. Remember even if you've let go, Jesus is still holding onto you. He is holding you secure, and nothing can separate you from his love.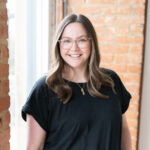 Rachel Denison writes, speaks, and leads worship with the goal of helping believers establish a more tangible, meaningful connection with God. As host of the So, You're Having a Baby podcast and author of A Parent's Guide to a New Baby, she shares her experience to equip new parents with practical tips but heart wisdom for the tough and beautiful days ahead.
See Author Profile
But wait, there's more...