Fear, you've come with some force this time. You tried to catch me off guard with your manipulative ways. As soon as I took the pregnancy test and saw two lines, joy and hope filled my heart, but I could sense your presence. You reminded me of my previous miscarriage. You threw fear-filled questions at me as if they were darts.
Nonetheless, I chose hope and freedom over you. I shook off the agreements we've made and uninvited you.
My husband and I decided to walk by faith, to hold on to the promise. Immediately, we started to celebrate this gift from God. Even though you made me hesitate a few times, we began to discuss names, nursery ideas, and everything in between. We kicked you off our path on this journey, and it felt good.
Then, it was time to see our doctor for our "confirmation" visit. So with our worship playlist on shuffle, we drove along the countryside and praised God in advance for good news. With anticipation and joy, we saw the mighty heartbeat of our baby! It was pounding away, and with that, fear you were no longer in sight.
We began to envision how our lives would change. How joy and laughter will fill our new home but in a much different way. We began to discuss ideas on how to deliver the news to our family, who have been waiting for this news for quite some time.
During our second check up, we saw our baby again. Except this time we noticed something different, there wasn't movement. In a soft and tender voice, the doctor said: "There's no longer a heartbeat." It felt as if she took a sledgehammer to my heart. Miscarriage, you decided to pay us another visit. Even though one in four pregnancies meet you, I didn't want to see you again. After a few minutes, the doctor said to come back later in the week to check once more, so hope and light remained in my shattered heart.
On our way home, my husband must have seen the tears pouring down my face because he pulled over at our favorite vista point. The views highlight the raw beauty found in Colorado. He then played, God of Miracles by Chris McClarney, which instantly became our anthem. We got out of the car, and with windows down, we praised God. It was the only thing we knew to do.
No words. Just praise. It felt like a battle cry. A battle we didn't want to fight, but one we geared up for anyway.
While we waited for our next visit, we invited close friends to believe and pray with us. Every night we fought for our unborn baby's heart to beat once again.
Fear, you made me question if I was strong enough, but I reminded you of who my God is. A God of miracles. A God that is much greater than you. A God that will never leave me nor forsake me. No matter the outcome, He is the same God.
But you still kept knocking on the door of my heart; throwing every dart you could to pierce and paralyze me. You whispered, "What if your God doesn't come through for you this time? Protect yourself and give up." However, as I told you then, and I'll declare it again, "I will praise my God whether I receive good news or bad news. I choose to stand with Him on the peaks and in the valleys."
At our follow-up appointment, the doctor said "I'm so sorry, but there's no heartbeat. You will have a miscarriage. I'll give you some space to process." There I stood, my husband and my mother by my side, as silent tears began to flow once again.
I've been here before. The first time knocked me down for a while but I told myself that this time would be different. This time I would kick the enemy in the face, and go against the urges of solitude.
Fear, miscarriage, and lost. You don't have the victory. You're a part of life, and that I cannot change, but you won't win. You won't touch my identity, and you won't steal my joy. I won't allow you to derail my mission. I stand to support other women even more because of you.
And yes, although I feel strong, broken, and tired all at the same time, I will get through this valley and hope will continue to rise.
A woman on a mission,
Charlena
---
I write this letter with tears rolling down my face to invite you into the hard places of my journey. I believe there is a purpose to be found in the pain, and the enemy chose to mess with the wrong one. Yes, many times we need space to heal, to then tell of our story. But what if we stopped faking fine and let our community into the real and raw parts of our story?
It's in the valley where it's easy to get lost. It's a place that we don't want to find ourselves in. A place that can literally make us lose our mind. A place that shakes us to our core. A place that beckons us to be real and raw with God. A place that causes us to question everything.
My hope with this letter is to invite you into my messy story, but most importantly to let you know that you're not alone in the valley. There are many of us here. Lamentation is a part of life, but being vulnerable in it makes us stronger.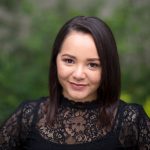 An accredited life & business coach, writer, and founder of Grit & Virtue. My passion is found in helping you on your journey of becoming who you were created to be, while living out your mission with clarity, conviction and confidence.
See Author Profile
But wait, there's more...