Over 2,000 years ago, a child was born that changed everything for everyone forever. His name is, you guessed it, Jesus. The beauty and awe of Christmas isn't just about the night He was born; it's the culmination of a story that started at the beginning of time.
"In the beginning…" Adam and Eve were with God in the garden because He built us for relationship with Him and with each other. When they chose to disobey God's commands, they put their own desires before trusting God, and there was a great separation in their relationship with Him. Thus began our need for a Savior and Jesus' long-awaited arrival on earth.
For centuries, God connected with His people, led them to understand more of who they were created to be in light of who He is and showed them the path to a life of wholeness. Rumors stirred that God was abundant in hope, love, peace, and joy, but some couldn't believe it until they saw for themselves. Even then, some still doubted that any one being could be great enough to deliver such a reality to a weary, worn out, and worrisome world.
Abraham, along with his wife Sarah, was weary from waiting for a child as they continued to grow older. God's promise to him was that they would conceive, despite their age, and he would be "the father of many nations" (Genesis 17:4). This kind of hope, built on a promise from God, is the heartbeat behind everything God is. This hope is what leads us to the story of baby Jesus, lying in a manger many, many years later. This hope makes no sense to most of humanity because it's far beyond our reach of rationality. If it were in our grasps, why would we need a Savior? This is the hope that stirs up something far greater than we can see in our short life because this is the eternal hope that God offers us freely.
Years later, a young shepherd boy named David was anointed to be King of Israel, went on to defeat a large Philistine (like, abnormally large), and became known as "a man after God's own heart" (1 Samuel 13:14). He lived a life that so many are in awe of, but he also faltered in ways many would be ashamed of. His life is full of disobedience, despair, running from God and then begging for forgiveness. When David called after God though, He always listened. It's obvious throughout David's life that God was constantly chasing after him, no matter how many times he messed up. The reckless, endless, unconditional, doesn't-make-sense kind of love God offers to His children is unmatched by any other. He is constantly running after us because, like we see from the beginning, God created us to be in relationship with Him, and at the end of the day, that is what is most important to Him. Love came down on that first Christmas day, as God sent His son to dwell with us, the greatest sacrifice He could have made to reveal a love like no other.
For 400 years, after the last prophecy of Daniel, there was silence from God and God's people. No prophets rose up to declare His coming, no miraculous accounts were recorded, and no one knew what to expect for the arrival of a Savior. They heard the prophecy from Isaiah, "For to us a child is born, to us a son is given, and the government will be on his shoulders. And he will be called Wonderful Counselor, Mighty God, Everlasting Father, Prince of Peace" (Isaiah 9:6). They recalled the stories told by their ancestors about the great promises of God, but one has to imagine they began to lose that spark of hope as the years dragged on. The Prince of Peace was the one they waited for, knowing that His rule would be everlasting.
As Mary and Joseph prepared for married life, the last thing they expected was an angel to appear, telling them they would be the parents of Jesus, the Messiah, the Prince of Peace himself. The angel visited Joseph first to settle his heart and give him greater understanding of what was to come, then to Mary, to tell her that she, a young virgin, was going to give birth to a boy, and she was to call him Jesus. She sought refuge in a close friend, Elizabeth, who was also given the good news of a promised child, whom we meet later as John the Baptist. As Mary awaited the anxious arrival of her new baby, the King of Kings, there was an unexplainable joy rising within her – a joy that came from her baby within. When celebrating the good news with her friend, it is said that Elizabeth's womb "leapt for joy" and she was immediately filled with the Holy Spirit (Luke 1:41-44). Even before He made His Christmas debut, Jesus was in the business of delivering an uncomplicated, supernatural joy.
As Mary neared her third trimester, she and Joseph were sent back to his hometown of Bethlehem, due to the Roman census. They sought a place of rest, but found nothing. When they were turned away at the inn, they were told of a stable they could sleep in.
Weary, tired, overwhelmed, probably still confused and unsure of how God's plan would unfold, Mary and Joseph laid their heads on hay and dirt next to smelly animals, holding onto the promises of God and the long-awaited Savior. He arrived that first Christmas, "wrapped in swaddling cloths and lying in a manger." (Luke 2:12) It may not have been the way Mary wanted or expected her life to unfold, but this divine plan brought an unexplainable peace with it.  While Jesus' birth felt like the end of the long-awaited promise, it was actually just the beginning of the redemption between God and His people.
The shepherds out in the field were the first to hear the news, and they set off to worship the One they, and many generations before them had, been waiting for – the Word become Flesh, the Prince of Peace, Lord of Lords, Son of God, Healer, Mighty to Save, Messiah. Because for centuries, their parents' parents' parents had passed down the hope of a Promised Redeemer, One who would be love in the flesh, the Prince of Peace, bringing a joy they never could have known apart from Him.
May the God of peace and love bring you good news of great joy this holiday season and a thrill of hope that surpasses any fear, worry, and pain that came with this year.
"And the angel said to them, "Fear not, for behold, I bring you good news of great joy that will be for all the people." Luke 2:10
God is with you. Immanuel.
~
Inspired by what you just read?  We invite you to not stop there but keep the conversation going by taking a moment to work through the following journal prompts.
As you ponder the truth that God promised in the very beginning, at the very first moment of your need, to send a Savior for you, what thoughts does this bring to mind?
God's people waited a long time for the promised Savior.  What do you think that was like?  How do you respond to waiting? 
Do you find it hard to keep trusting and believing as you wait? 
How does knowing that God kept His promise, exactly as He said He would, effect your faith?  How can knowing this help you right now? 
P.S.  Did you know we sell a beautiful journal collection perfect for your Advent reflections?  You can check out the Grit & Virtue Journal Collection here!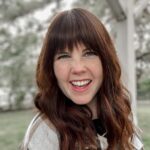 Stephanie has a passion for learning, writing, and inviting others into a space of grace with God daily. She has a BA in English and an MA Christian Ministry, and never takes off her thinking cap. When she's not working as a Digital Marketer in Publishing, you might find her reading a book, podcasting, getting coffee with a friend or watching a movie at home with her husband and adorable pup in Sacramento, CA. You can keep up with her at www.stephanielapreal.com.
See Author Profile
But wait, there's more...