So, you've just completed your interview. You prepared for every possible question. You practiced until you had polished answers. And you tried your hardest not to let your nerves get the best of you. You're ready to sit and wait (impatiently, I'm sure!) to see if the employer wants to move forward.
But don't get too comfortable, my friend. You have one final step.
One of the biggest mistakes that people make in the interview process is thinking that they're done right after the interview. After coaching hundreds of clients, I have found that including one last step can make or break your success in landing the job: 
Writing a solid thank you note.
But it can be really confusing. When do you send it? What do you say? How do you stand out?
Not to worry! Here is a handy dandy guide and thank you note template that will help you differentiate yourself as the best candidate for the job post-interview:
PERSONALIZE
Gone are the days of generic thank you notes. In order to stand out in the interview process, you need to write something thoughtful and custom. It could be anything from something professional you discussed about your industry to a personal anecdote you chatted through when building rapport. Whatever it is, the key is to show the interviewer that you are respectful of their time and desire to be memorable. And yes, if there are five people that you interviewed with, you need to write five, custom thank you letters. 
Quick tip: During the interview, take notes on what you talk about. Then, when you leave the interview, you'll have a better idea of what you should include in your follow up.
SHARE VALUE
At the end of the day, a company isn't hiring you just to hire you. They are hiring you to help them reach a goal or support their team. A thank you note is the perfect place to sell yourself, to differentiate your skills and to reiterate the specific ways you can bring value to a team. When a hiring manager is going through a ton of interviews, having a thank you note that reminds them of who you are and what you have to offer may just seal the deal on landing that new job.
Quick tip: Revisit the job description and reflect on your interview. What did the interviewer care about? What are their goals? How are you uniquely equipped to bring value? Include those in your note.
FOLLOW UP
My suggestion is to send this thank you note within the first 24 hours post-interview. While I love snail mail, most companies debrief on candidates within a day. It makes much more sense to send an email because you know the right person will receive it and they will get it in a timely manner. After that initial interview, barring any specific instructions, it's totally appropriate to follow up with the recruiter or hiring manager if you haven't heard back about next steps within a week. Pleasant persistence is the way to go!
Quick tip: In addition to sending an email thank you note, connect with them on LinkedIn. It's another opportunity for you to put a face to the name and grow your network.
CHECK OUT THIS EASY PEASY SAMPLE SCRIPT
Hi [INTERVIEWER'S NAME],
Thanks so much for spending time with me discussing [XYZ role]. I really enjoyed talking about [insert one particular subject you spoke about].
As I mentioned in the interview, I believe I'll be able to bring value to the team through:
[Value You Bring #1]

[Value You Bring #2]

[Value You Bring #3]
Looking forward to hearing back about next steps!
Best,
[YOUR NAME]
Overall, thank you notes are the best way to stay top of mind, communicate your unique skills, and build rapport with your potential employer. Do it right – and it could be the reason you land the job!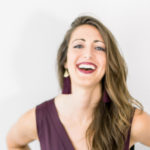 Jena is an ex-Wall Streeter turned career coach and entrepreneur who helps go-getter professionals articulate their personal branded career story to land their dream jobs. For fun, you can find her mulling over faith & work theology, exploring Nashville and the checking out the best wine bars in town.
See Author Profile
But wait, there's more...