Tonight is the night. Teams are ready to go. Ideas and strategies are being discussed. You can feel the energy in the room. People are ready to create. The only thing standing between them and go-time is me, the keynote speaker.
This past weekend, I was invited to be the keynote speaker at SF Bay Area – Code for the Kingdom Hackathon. Code for the Kingdom is a weekend Hackathon series where the challenges confronting our communities, our society, our families, and our spiritual lives are tackled from a Christian perspective. The movement hosts weekend gatherings in different cities where developers, designers, ideators and others collaborate to advance common good and serve God's Kingdom with technology and design.
In preparing my message, I immediately thought about sharing design and technical insights that would help the participants as they developed new products over the weekend. Products that would address areas like human-trafficking, education, and bringing the Gospel to a global audience. I thought I'd cover topics in the areas of design thinking, why rapid prototyping works so well, or how to really understand the personas of the audience you're designing for. However, as I thought about what would challenge the audience, I figured I might as well address one of their – and my – biggest fears: succeeding at things that really don't matter.
It's a scary thing. We all want to work on things that matter, and many times we do a great job of convincing ourselves that we're making a difference, but far too often we're not. We ignore the prompting in our hearts and let life happen, rather than living with intention. I've struggled with this idea for years until I realized that it was my responsibility to dig into it and connect the dots. To listen to my heart and be honest about the things I decided to focus on and pour my energy into. Below are the three key points I shared that night and I hope you can relate:
A Glimpse of Purpose
Far too often many of us struggle with finding purpose in what we do. We want to be used to do great things, but it's hard to connect the dots. What I've found is that purpose is sometimes right in front of us and we don't realize it or accept it. In wrestling with the fear of succeeding in life at the wrong things I began to look at moments in life when I felt fully alive. When I was in flow and when I walked away with more energy despite hours of intense focus. What I've learned is that in those moments I was using the gifts and talents that come naturally to me. The moments that allowed me to have a greater impact. I believe that those are the moments that we experience a glimpse of purpose.
Designed for Greatness
We were created to create. To solve problems, to do good works, and to use our gifts and talents. Ephesians 2:10 says, "For we are his workmanship, created in Christ Jesus for good works, which God prepared beforehand, that we should walk in them." The ultimate creator designed you for a purpose and with specific gifts and talents. Once you realize that and have accepted it, then what? What are you going to do with what you've been given? The talents, education, freedom, ideas and passions that bubble up in your heart. Opportunities to live fully alive are plentiful, the hard part is making the decision and taking the time to pursue them.
If you were designed to design, then you should design. If you were designed to build, then you should build. If you were designed preach, then you should preach. Why would we do anything different? If you are not living out who you really are, then you will never reach your full potential. You have been designed with capacity and purpose to do amazing things, but only if you truly extend who you really are. I believe that God smiles when you do exactly what he designed you to do.
Fruits of Your Labor
We have been given gift and talents, but it's our responsibility to take action. It's not easy. It requires us to walk by faith and not by sight. It takes courage and faith to follow our hearts. One of my biggest convictions in life is when I think about the moment I meet our heavenly Father. How are we going to answer the question: What have you done with the gifts and talents that I have given you? I know that we all want to hear "well done my good and faithful servant". The world may not understand our decisions, but that's okay because we don't operate by the world's standard. Use what you've been given for good works and trust God to order your steps.
I hope that you too begin to wrestle with the idea of whether you're truly succeeding at things that matter. Keep looking out for your glimpse of purpose, accept that you have been designed with gift and talents, and be the real you; it's the only way to reach your full potential.
Are you listening to your heart's desire and are you taking the steps to pursue them with conviction? Would love to hear your thoughts in the comments below.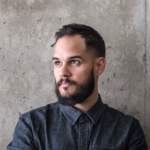 Roberto heads up design + tech for Grit and Virtue and is a quality junkie. He has worked for Lockheed Martin, Google, Yahoo, and as a consultant for startups. When given the opportunity you can find him speaking on the topics of design, diversity, and education.
See Author Profile
But wait, there's more...