The difficult, disappointing, anxiety-inducing truth is: Covid is not going away yet. Some will shelter in place again, some will go back to virtual school, some will not see their families over the holidays, and most of us will have to change how we do life….again.  
This can feel like a trigger of the initial shock, fear and loneliness of when this all began. 
It also can be a reminder of our resilience. 
When the days turned to months and we adapted, we changed. We took leisurely long walks, spent the most time ever with our family, we engaged our friends over Zoom cocktail hours, we stopped making plans (realizing they would likely be canceled), and we eventually accepted the "new normal," albeit with trepidation. 
Maybe instead of looking at the "second wave" of this pandemic as filled with more difficulty, more restrictions, more hardships. Maybe we can take a moment and gain some perspective. I like to do something called re-remember. Let's re-remember what we learned during the previous six months and maybe think about how we want to live differently moving forward (with or without a pandemic in our lives). 
Parker Palmer eloquently says, "The notion that our lives are like the eternal cycle of the seasons does not deny the struggle or the joy, the loss or the gain, the darkness or the light, but encourages us to embrace it all – and to find in all of it opportunities for growth."
LET GO
One growth opportunity for me during that intense Covid season was learning to let go. Letting go of my expectations of productivity, letting go of outcomes, and ultimately letting go of control. We all felt the burn of letting go of events: canceled weddings, canceled vacations, canceled…well, everything. The outcomes we once held onto dissipated in our faces. The word "control" was laughable during that time. The country was in chaos and there was absolutely no control to grasp. All we could control was our own actions of staying home, wearing a mask, and socially distancing. That was it. 
Now, here we are again feeling slapped in the face by a pandemic that doesn't seem to end. This is the time to re-engage this next season with a careful evaluation of the care and capacity needed for ourselves. How are we going to not let the anxiety overwhelm us? How are we going to choose joy when everything feels bleak? How are we going to continue to nourish our souls? How are we going to let go?
One way to answer these questions is by understanding your limitations and capacity. Capacity is "the maximum amount that something can contain; the amount that something can produce; the ability to do something; a mental, emotional, or physical ability." If capacity is how much you can hold in this one container called life, then you have to know the limitations of your container.
An easy strategy to help you recognize your capacity is to write down your limitations. Your limitations are beacons guiding you to deeper soul-needs you may be missing in the busyness of life. Here are a few examples of my limitations: 
Limitation: I can't work all day and then work at night as well. 

Soul need: I need to decompress and relax my brain at night.

Limitation: I can't be inside all day.

Soul need: I need to spend time outside in nature every day. 

Limitation: I can't be on Zoom calls all day. 

Soul need: I need alone time when I don't speak to anyone. 
Once you know your limitations and capacity, the next step is establishing safeguards and boundaries to keep it in check. Explore questions like these: How can I protect my calendar from filling up? Do I need to schedule my weekly or daily personal time on my calendar? Maybe I need to talk to my partner about my need to have one hour a day away from the kids and figure out a plan. Maybe I need to limit my screen time to rest and rejuvenate in healthy ways?
Lastly, determining our capacity allows us to create room for self-care. And self-care is critical in this highly stressful and chaotic time of an election year, Covid, and racial unrest. So I want to give you a permission slip to perform a body awareness scan every day. 
It starts with simple questions to check in with yourself and then CARE for yourself. Here are my questions:
Where is my mind today? Am I worried, anxious, full of jumbled thoughts? How do I unload that? 

Where is my heart today? Am I hurting, sad, angry, full of joy? What do I do with those feelings?

Where is my soul today? Do I feel connected to the Divine? Am I at peace? Am I content? How do I honor that?

Where is my body today? Am I sore? Am I tired? Am I full of pent-up energy? What does that mean my body needs to do?
LET LOVE GROW
Another growth opportunity during Covid was learning to let love grow. I had to learn how to intentionally connect with my partner. I remember feeling like I couldn't get away from my partner, always stuck near each other, in the same orbit, but did I feel truly connected? That connectivity took a lot more intentionality. We had to pursue each other. We got creative with date nights (since we couldn't go out or have babysitters). We had to find ways to not just be in the same room but to stay curious about the other. Lastly, we had to re-configure our "same team" mentality because the playing field was suddenly all new. New rules, new routines, new struggles. But one same pursuit. Same Team. 
It is known that since Covid the divorce rates have increased. I hope we can take this opportunity to re-remember to love and encourage each other in our hopes and dreams. In our nationwide research study (that we discuss in our book, Love or Work), we found that only 3 in 10 people feel encouraged by their partner to pursue their work and dreams. 
This statistic hurts my heart. Only about 30 percent feel encouraged by their partner to go after their dreams! This number needs to be higher. I believe that learning to love the purpose of your partner is one of the greatest gifts you can ever give. But this is a learning process. As individuals, we may be drawn to very different work (in our case, a first responder and a non-profit founder), but we can still be drawn toward each other. It is in loving each other, loving what we do, and loving each other's purpose that a lifetime of true partnership is created.
A lifetime of partnership means that as you progress together—through highs and lows, paychecks and gaps, moments of courage and moments of fear, changing seasons of opportunities and losses — you will support, celebrate and fight for your partner in their journey of finding their purpose. 
Ultimately, I hope these words allow you to stop and pause, and re-remember the important lessons of letting go, and caring for yourself. Let's intentionally create life rhythms now so that Covid or no Covid we can sustain our mental, physical and spiritual health. May we also re-remember the love we have for our partners as we navigate this difficult season on the same team. This is a hard year, a year we should continue to give ourselves and our partners grace and a whole lot of tender loving care. 
~
Love a good GIVEAWAY?
Share your answers to at least one of the questions below with us in the comments and be entered to win a copy of Love or Work: Is It Possible to Change the World, Stay in Love, and Raise a Healthy Family? by André and Jeff Shinabarger.  The winner will be announced in our newsletter next week.  Don't get our newsletter?  Sign up here!
As you re-remember what you've already walked through this year and look to what lies ahead, are there changes you need to make?  Things you will not pick back up?  

Has this season revealed any limitations that you need to take into consideration?  

How can you let love grow and intentionally connect with your partner?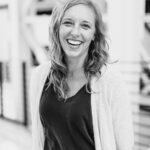 André Shinabarger is an adventurer who loves seeing the world. Born in Bolivia, she has a deep passion for building a community with marginalized people groups. She works for Grady Memorial Hospital in Atlanta as a Physician Assistant and is an adjunct professor for Emory University. She is an Advisor to Plywood People, host of the Love or Work Podcast, and Co-Author of the Love or Work book.
See Author Profile
But wait, there's more...