Allow me to give you a word about words: whether we think them, say them or write them — they create our reality.
Even our brands and businesses are made up of them. They live in the exchanges between the hearts & hands of owner to customer. They're our way of initially building relationships with our contacts, they solve our 'pain points,' they allow us to effectively work around 'bottlenecks,' and they move us to action. Our words should be the only form of a contract we need (but unfortunately, that's just no longer the case).
When our words align with our actions, something pretty powerful happens. We become an unstoppable force of dreams and reality colliding — for ourselves and for others.  Because the crazy thing is, you already have what it takes (you don't need me to tell you that, either).
You just need to articulate the value you can offer powerfully and frequently enough so that your audience knows it too. So they can not only see for themselves but also feel that you do in fact have what they need.
Being in business essentially means you're someone's answer. So you need to decipher their question. Being in business also means you have a gift worth paying money for. So you need to show them what they're receiving.
Words just might be the most undervalued commodity in business, and yet, they're deeply embedded in everything we do. The goal should be for your words to touch, empower and inspire people in a way that not only makes them feel heard but understood. Think about it: in the biblical story of the Tower of Babel (Genesis 11:1-9), they could all hear each other just fine. What they didn't have was understanding, because they were speaking completely different languages (verses 7 & 9).
In shifting back to the present, you know that the bulk of SEO strategy is about consistency with your keywords throughout your content, right? Key-words. Because SEO is not an online mystery, its aim is to be the very opposite. Search engines want to see that you've embedded a constant message throughout your content because "clarity, not just content, is king."
It's not just about pushing content, blogging every day or even feeling like you have to reach minimum word counts. People will come to you (both online and in-person) when you speak their language, not just when you push your own.
The reason promotional sales jargon doesn't work is because it doesn't have a pulse. Is your heart beating with passion when you make a "Don't delay, buy today!" pitch? Probably not. And if you are your brand, and you're not even jiving with you — why would your audience?
It doesn't even matter what you're selling or if you're even selling anything at all. Case in point: My own blogging journey has gone from being about food & fitness, to lost and confused millennial, to found and covered by grace, to part-faith and part start-up, inspired by the integrated movement that is kingdom business. It is my words that have kept me both sane and confused all along the way.
The common challenge at each of these stages has always been in figuring out how to take what's on my heart to share and make it come to life on paper (or a screen) for others to easily digest. Despite studying English and Communications for a number of years, as a just-kicking-off, part-time solopreneur, I'm realizing now more than ever the weight and importance of words.
At the risk of being misunderstood, I will affirm this:
We cannot be everything to everyone (just imagine the job that Jesus had), so we have to stop trying to be everything to everyone. Speak intentionally to the people who need to hear what you have to say. Your audience can't just be "everyone." If you're feeling lost or inadequate in the world of words, consider employing the help of a communications professional to assist where you need guidance, oversight or review of your brand/business/blog's message. Because maybe it's not so much your product or service that's struggling to sell, but the way you're packaging it and the story you're creating around it. We can almost always tell when someone is all in to something or not. Why? Because we can tell by their voice.
Take a moment to reflect:
What are you conveying when you talk about your brand/blog/business? What would others – even friends and family – say about the work you're doing? Is your message clear? Is it consistent?
That's why it's so important we write with and from the heart. Most importantly, we have to honestly ask ourselves: would I buy from me?
The life of words is a wild one and a constant game of trial and error. Content creation often gets pushed to the bottom of the task list, and that's a shame because then its quality suffers. So whether it's you, one of your employees, or outside help that's creating it, try seeing how things change when you make it the priority. When the right words are put in the right order and given at the right time, you can create a brand story and a business transaction with a truly transformational experience.
Write on, friends.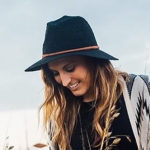 Kaitlyn holds a Masters in Strategic Communications from Regent University, and is a part-blogger, part-freelancer for all things words, while also working in international entrepreneurship. She's obsessed with the meeting point of sun and ocean on the horizon and tries to catch it whenever she can. She has a heart for encouraging others to rise up in who they are, what they're called to do, and why.
See Author Profile
But wait, there's more...