Like many of you, I woke up to a weird and surprising reality last week.  For an undetermined amount of time, my husband and I will both be working from home while our 3 kids are also home doing online learning through their school district.  And like many of you, we are practicing social distancing and staying close to home. Of course, this is just the logistical side of how our life has changed and doesn't include the emotions and fears that keep popping up.  
Needless to say, this was not what I expected when I mapped out what March was going to look like.  In fact, this article wasn't even on our editorial calendar. But, nonetheless, here I am writing it, processing what is going on along with all of you.  
As a believer, my mind knows what to do in times of uncertainty.  We should keep praising, talk to God about our circumstances and fears, and remind ourselves of who He is and what He has done.  This is what we should do, but fear is noisy.  Fear wants to drown out the voice of God. 
So, with intention, we have to push past the voice of fear so that we can hear what our steadfast loving Father, who is peace and gives peace and is always and only good, says to us: 
Do not fear.  Do not be anxious.  Fear not. Be of good courage.  
But, how? 
By remembering He is with us.  
He is With Us
There's a common pattern in the Bible with God's commands to not fear.  Most are paired with a statement that reminds us that God is with us: 
"Fear not,

for I am with you

; be not dismayed,

for I am your God; I will strengthen you, I will help you, I will uphold you with my righteous right hand

." (Isaiah 41:10)

"And the Lord said to Joshua, "Do not fear them,

for I have given them into your hands.

" (Joshua 10:8)

"

The Lord is on my side

; I will not fear." (Psalm 118:6)

"So we can confidently say, "

The Lord is my helper

; I will not fear; what can man do to me?" (Hebrews 13:6)

Rejoice in the Lord always. I will say it again: Rejoice! Let your gentleness be evident to all.

The Lord is near

. Do not be anxious about anything, but in every situation, by prayer and petition, with thanksgiving, present your requests to God. And

the peace of God,

which transcends all understanding

, will guard your hearts and your minds in Christ Jesus.

(Philippians 4:4-7)
Ephesians 2:14 says that Jesus "Himself is our peace."  His presence within us is the key. His presence provides the deathblow in our fight against fear.
He provides peace that surpasses understanding, anchors us when everything else feels shaky, and provides hope that does not disappoint.  He is the rock we can stand on – steadfast and immovable. His presence is the only reason we can walk through the fearful circumstances of life without fear.  
God says to us "Do not fear," because peace in fearful realities has nothing to do with us or our circumstances and everything to do with His constant presence with us.  Fear will gain power as we look at the circumstances that produce it but become powerless when we rest in God's nearness.  
The Early Church: Walking With Peace in Fearful Circumstances
The circumstances surrounding the rise of the early church were scary.  But in the midst of their very scary reality, they fixed their gaze on God, knowing that He was with them, and did not let fear control them or hinder their obedience.  In Acts 4:23-31, we see them praying together after being threatened by the Jewish leaders, providing an example for how we can also pray during scary times.  
Start by fixing your eyes on God. Remind yourself of who He is and what He has done before.  

Talk to God about what is happening in the world, in your heart and in your mind.  Do not ignore it or let your friends be the only ones who hear your emotions and fears.

Remember that God is always with His children to comfort, help, teach, sustain, strengthen and equip. 
A New Perspective 
If you keep reading the story of the early church in Acts, you'll also see that the fearful circumstances led to a wave of persecution that led to many believers fleeing for safety, which then led to the growth of the church in new places.  The church kept sharing as they went to new places, many heard and believed, and the church was so firmly established that it still exists today.  We wouldn't be a part of the global church today without the persecution that caused early believers to flee and spread out throughout the world.  
It makes me wonder what good things will come out during this trying time we are all facing right now?  Refocused priorities, deeper walks with the Father, new inventions, necessary medical advances, heightened appreciation for the helpers, new ways to serve, books written and songs sung?  Yes, there are going to be some really hard moments, but what if there are some good ones too? 
So, as we confront our fears today, let's remember this: 
God sees you.  
God hears you. 
God is with you.   
He remains the same and is not surprised by anything that has happened. Rest in the truth that you don't even have to ask Him to be near because He promises to "not leave you or forsake you" (Deut. 31:8).  Friend, He cares.  He cares so much. So, look to Him, believe that He is with you always, still has a purpose for you, and trust that He is far greater than anything this world may throw your way.
Let's choose to confront this fear together today.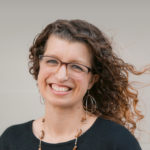 Carrie is a writer, editor, wife, and mother of 3 based out of Mckinney, TX, who is passionate about incorporating her faith into life's beautiful mess.
See Author Profile
But wait, there's more...