You know that pretty journal you bought or the one your mom or sister or friend bought for you two Christmas' ago?
Is it like mine, collecting dust on some shelf or in a drawer somewhere?
We know how it goes (for most of us at least). We buy the journal and we're so excited to start using it every morning with our coffee snuggled up on the couch with a blanket. We may even be successful for a bit but then the busyness of life gets in the way and we "fall off the wagon," so to speak.
In theory, I'm sure most of us know that there are benefits to journaling, but do we really know what they are? Or better yet, have we stuck with it long enough to experience these so-called benefits?
I'm a firm believer that experience is foundational to so many things in life.
As a therapist, I talk with clients often about how our experiences influence our beliefs, thoughts, emotions, and behavior. In the diagram below, you can see that our experiences are powerful and are responsible for putting every other part of our mental and emotional well-being into motion.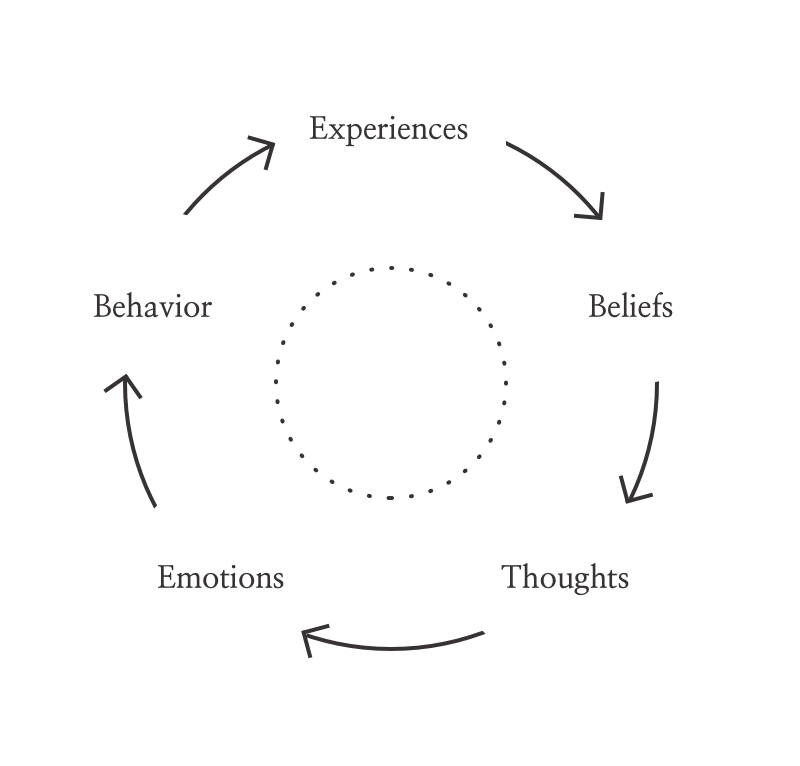 Our experiences influence the beliefs we hold, our beliefs influence the thoughts we think, our thoughts influence the emotions we feel, and our emotions influence the behavior we engage in. 
With this in mind, it's easy to see that if we have never EXPERIENCED journaling as beneficial in our lives, it's going to be really difficult to be motivated to stick with it as a daily practice.
In some of the research I found about the benefits of journaling, I read how just the simple act of opening a journal and putting pen to paper could develop clarity of mind, compassion for yourself, and give you a practical way to develop a deeper relationship with your own mind. 
Sometimes our lives move so fast we neglect this relationship with our mind and then wonder why it doesn't work for us when we need it to. 
A relationship needs to be tended to, and as you journal, it encourages meaningful reflection to gain more awareness about yourself, and release feelings you didn't even know you had. Regular journaling allows you to deepen your relationship with YOURSELF and empowers you to give a voice to the things that matter in your life.
The research goes on to say,
"By giving the author a voice, journaling allows the opportunity for the author to release emotions and make sense out of complex life experiences. Journaling is a vehicle for self-understanding, self-guidance, expanded creativity, and spiritual development. It allows the author to freely express themselves without judgment, criticism or analysis. A scream, anger, whimper, sad- ness, wail, and rage are all acceptable behaviors to the journal. Journal writing is a form of self-expression that can add dimension to the author's life."
God designed us to be relational and expressive.
As we carve out time to write our thoughts and feelings without fear of judgement, without expectations or pressure, we can discover more about ourselves and find meaning in our lives on a deeper level.
So, here are a few journal prompts to get you started with the experience of journaling:
How am I feeling this morning/evening?

How do these feelings help me understand:

What I've been thinking about or what I believe? (re: situations, conversations, myself, etc.)
What I need on a deeper level? (I.e. if I feel lonely, maybe I need a connection.)

What is one practical way that I can meet this need/take care of myself today?
Let this be the permission you need to give your thoughts and feeling a voice. Take five minutes, thirty minutes or an hour a day, whether it's in the morning, afternoon or evening. As you get into the daily practice of journaling, you'll EXPERIENCE how helpful it is, and before long, you won't be able to imagine your life without it.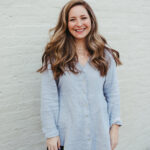 Barb Hill lives in Nashville, TN with her sweet pup Nash. She is a therapist with an undergrad in Biblical studies and Masters in Biblical counseling as well as in Clinical Mental Health Counseling. Barb is passionate about writing, traveling with friends, and working with her clients. She just published her first book, Seasons of Waiting: An Invitation to Hope, with Tyndale House.
See Author Profile
But wait, there's more...