Mental health is simply defined as a person's condition with regard to their psychological and emotional well-being.
Is it just me or does the word "mental" feel negative?! From what I can gather though, mental health is simply a state of well-being that every human being needs just as much as physical health, yet very few people talk about and advocate for mental health.
As someone who battled and survived years of mental illness, the mission to stay healthy emotionally and mentally has been my top priority. I have now given a whole different meaning to "self-care," as it has become an essential tool to my well-being.
I used to think self-care meant being selfish, because I prioritized my own needs. Now, I know better. Self-care simply means taking care of myself—my body, mind and spirit, with a strong focus on my mental health. I learned the hard way (and I'm still learning!) that my body reacts as fast as it can to let me know that I am overwhelmed and need to slow down. So, now, I take care of myself by doing what I need to help myself relax and bring joy to my life.
Of course, we all know that nutrition, fitness and meditation are fundamental principles for health and well-being. In addition to these, I'd like to share my personal "coping methods", the little things I do that have helped me get through each day, even during the toughest times.
Aromatherapy
Doesn't it make you feel good when your room smells good? I'm obsessed with aromatherapy and it comes in many different and inexpensive forms. I personally love using incense, natural soy wax candles and essential oils. The first thing I do in the morning is burn incense, as I find it very cleansing. Then, I either diffuse an essential oil all day or light up a candle, depending on my mood. Find your own aroma and make it part of your daily ritual.
Surround yourself in BEAUTY
Fresh flowers make me happy, so I buy flowers each week. I place them on my desk as I work all day, and sometimes I splurge and buy more for the other rooms. I believe a flower a day keeps the doctor away.
Read and write
Depending on how much time I have, I make sure I read something that inspires me. It could be a page (or chapters) in a book, or a simple inspirational quote. WORDS HAVE POWER, so I value their inspiration and motivation. When I have a lot on my mind, I write them down, including my prayers. I bought a beautiful, hand-woven basket when my husband and I went on a trip, and I made it my "prayer basket", where I place my written prayers. Try it. Make your own prayer box/basket and fill it with your own prayers and intentions!
Happy tunes
Who doesn't like music? Listening to music has become an essential part of my own therapy. Whether I dance or bob my head to happy (or mellow!) tunes, each piece provides encouragement.
Silence
More recently, I have come to appreciate silence, when I work on being more present and simply listen to any sound that surrounds me. Sometimes, that is enough for me. Whatever you fancy, I hope you enjoy every moment of it and make it your own.
Bodywork
I realized that my body tends to hold on to a lot of tension and stress. That said, a regular massage is no longer a luxury for me but a necessity to my well-being. I remember years ago when I didn't have enough money, but I knew I was in pain and I wanted some work on my body, I skipped other expenses and chose to spend it on a massage—and for me, it was worth every penny. To this day (depending on my budget of course!), I get regular massages, acupuncture, chiropractic treatment or any other type of bodywork, so long as I know it will be beneficial to my overall mental and physical health.
No one else knows you the way you know yourself, so only YOU can find the little things that make you happy and will help you achieve your overall health goals. In honor of Mental Health Awareness Month, I hope you find your own #selfcare rituals in the simple things and take the time to take care of YOU and your #mentalhealth.
With love + gratitude,
Elizabeth
What are you thoughts on self-care and mental health? How has it impacted you and/or those around you?
~
Are there worries that you're facing that have severely impacted your wellbeing? Take time today and recommit them to Jesus because He cares. And know that God has also provided the gift of mental health professionals to help when needed.
While we do our best to provide you with resources that will help you in your journey as a woman on mission, please note that no article we share on mental health can replace professional help.
So
If the darkness is overwhelming and you are in need of help, please reach out to a trusted professional counselor. And, know that we love you. Each and every one of you was made in the image of God, valuable and treasured by Him, so please hold on and never give up.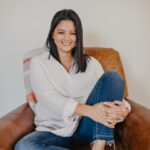 Elizabeth Tiglao-Guss is a social entrepreneur and founder of Link Of Hearts, a lifestyle brand raising awareness for mental health and making inspirational, handmade products in Los Angeles. She is also a mental illness survivor of about 15 years and now, as a result, is a big advocate for Mental Health.
See Author Profile
But wait, there's more...