Women continue to reach new heights in corporate settings, in business, and around the world. There is still much work ahead to see full equality and it's great to see organizations designed to help women thrive; Grit & Virtue being one of them. However, you hear very little about the benefits of doing it together as husband and wife. Without a healthy perspective the feminist movement, which is noble, could mislead people to believe that women should do it alone. Men play a significant role in helping bring down barriers and in propelling women forward. She shouldn't do it alone. We were designed to do it together.
At the end of every year my wife and I try to get away for a few days to reflect on the past year and plan for the upcoming one. We reflect on all areas whether it be career, life, ministry, or business. This past December we spent a week in beautiful Lake Tahoe, and the theme of our conversations seem to always circle back to Grit & Virtue. We knew that 2015 would be a year of risk, learning, and being obedient to the mission ahead. But I also knew that that it would be a year that would challenge my role as a leader and as husband in a different way.
Since I can remember, Charlena has supported me in everything I've decided to pursue. From getting my license at 16 to helping me explain to her father why the tail light of his brand new car was busted after we took it for a spin. She's helped me in my business endeavors, career transitions, moving across the country, and working through our faith journey. Over the last couple of years I've seen her heart bloom for what is now Grit & Virtue, and I've decided to be there with her every step of the way. I've learn so much about marriage, about the true meaning of becoming "one", and about doing life together in all aspects of it. To co-labor.
5 Lessons I've learned from working with my wife
The WHY has to be mutual
We're two different people. We have different gifts and talents. She's a woman, I'm a man. She likes to cuddle, and well I admit it's not too bad. But our hearts share similar burdens. It breaks for the same things. And when the WHY of what you're building aligns with your hearts, whether it be in business or in ministry, then it naturally becomes a shared vision. A shared vision keeps us both moving full speed ahead.
Her weaknesses are my weaknesses
For a period of time in our relationship I didn't realize that my wife was actually a reflection of me. That if she struggled in a certain area, then it was my struggle as well. That if she was was afraid of getting on stage to give a presentation, that it was my responsibility to help her overcome that. It also works the other way around. This simple lesson has become so significant in our marriage. Shawn Carter puts it another way, "What ever she lacks, I'm right over her shoulder. When I'm off track mami is keeping me focused."
Be real and sprinkle some grace
When starting a business or ministry there are going to be many areas for growth and there will definitely be new territories you'll have to cross together. I have also become her default sounding board. So yes, that means that I really have to listen. Put down my phone, which I still struggle with at times, and be able to give my undivided attention to then follow up with real honest feedback. I've learned that giving feedback with a little bit of grace goes a long way.
Know when & how to pull her back
Especially at the beginning of a new venture there are so many things to do. She's busy from morning until night. It's hard to not focus on "work" when your heart beats for it. However, it's also easy to burn out. I have to know when it's time to pull her back from work to prevent burnout. Setting up healthy boundaries around "work time" helps make the journey a good one. We have to continually remind ourselves that we're in a marathon, not a sprint.
Find and fill in the gaps
At times there are going to be certain areas that I can't and shouldn't be helping with. However, I've learned to help find and fill in the gaps with the skills and experience I do have. I may not be able to help in every area, and that's okay, because I can execute better when I'm working in areas that are naturally fitting to me. The important part is to be authentically invested in her and in the vision.
I know most of the readers of Grit & Virtue are women, however for the fellas out there I hope some of these are relevant and helpful. Ladies, be sure to invite your husbands on the journey. Working together as husband and wife can and should be very rewarding. Make sure the vision is a mutual one and that the WHY behind what you do rings true for the both of you. We were created to create together.
What are some lessons you've learned working with your spouse? What are some challenges you foresee when women step into leadership roles? Do you think husbands and wives should work together?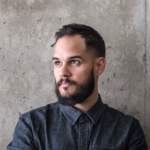 Roberto heads up design + tech for Grit and Virtue and is a quality junkie. He has worked for Lockheed Martin, Google, Yahoo, and as a consultant for startups. When given the opportunity you can find him speaking on the topics of design, diversity, and education.
See Author Profile
But wait, there's more...