According to Strategy + Business magazine, strategic leaders possess the following personality traits:
They can challenge the prevailing view without outrage or cynicism
They can act on the big and small pictures at the same time
They can change course if their chosen path turns out to be incorrect
They lead with inquiry as well as advocacy
They lead with encouragement as well as command
They operate from a deeply held humility and respect for others [s+b, Autumn 2016]

No big deal, right? Don't lose heart, only 8% of senior executives in a recent PwC study of 6,000 respondents turned out to be strategic leaders. The good news for all you women entrepreneurs out there is they were actually more likely to be female.
There are plenty of e-books, courses, and webinars that will tell you, "You don't need a business plan! You don't need a start-up budget! You don't need anything…" but their products or services.
While much of the work available on the internet is absolutely infused with quality advice, tools and techniques for improvement, what is mostly being sold to you is their experience. That's the real value you're buying into, and it is worth a pretty price.
Yet, how much information have you consumed only to feel like you're not necessarily getting any closer to your start-up efforts, furthering your business or improving your systems?
That's because you can't buy their experience. You have to create your own.
This, my friends, is a process that is learned and earned over time. That's why no matter how many competing voices there are within an industry – there is still room for you because no one else will have your experience to offer.
Your goal should then be to work with a consultant, strategist or business professional who guides and empowers you to unlock the potential "strategic leadership" within yourself – and within your organization.
It is strategic to focus on what it is that you do best, and outsource or delegate the rest.
It could take your entire career to know your industry inside and out, top to bottom and front to back. And if you're in an industry like marketing and communications, well, it changes daily.
So how do you remain a constant force in a state of flux? How do you acknowledge your weak areas, without letting them rob you of your strengths?
Here are some things to keep in mind as you work towards starting (and growing) your brand/business.
Clarity, not just content is king.
As in, it's not just about creating content that sounds nice or looks nice, but that clearly communicates your why. It's taking the complex and making it simple enough for people to grab hold of without still scratching their heads wondering what you're talking about.
Context, not just a channel is key.
You need more than a platform to broadcast your message. You need to focus on talking to the right audience in a way that's relevant to who they are, what they need and delivering it when they need it.
Community, not just a conversion is what counts.
The quality of your followers is far more important than the quantity. Focus on creating relationships, built upon authentic connection and service. Good business transactions are 100% mutually beneficial. Kingdom business transactions are 100% spiritually transformational.
Cultivation, not just compelling rhetoric is what matters.
This is about showing people how to grow and elevate what's within their grasp. Break it down for them versus being long-winded for the sake of sounding authoritative. Give them actionable steps, tangible experiences and behavioral metrics from which they can witness growth.
Not every decision you make within your business will be final, but your optimistic attitude for staying the course and thinking strategically is a matter of identifying your potential dream sabotagers and creating solutions for them.
As a young, multi-passionate communications professional and entrepreneur, I'm learning to walk my talk, while knowing: I will forever be learning.
I'm ok with that, and that's exactly what makes me feel like I'm on track. It keeps me reliant on the ultimate authority – Jesus Christ, and more sensitive to the inner workings of the Holy Spirit in my heart and in my daily life. After all, we learn best by doing. By getting up and getting going with the people and tasks placed before us; in the race we're called to run; in the very lane we find ourselves in.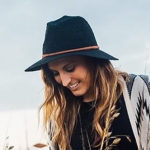 Kaitlyn holds a Masters in Strategic Communications from Regent University, and is a part-blogger, part-freelancer for all things words, while also working in international entrepreneurship. She's obsessed with the meeting point of sun and ocean on the horizon and tries to catch it whenever she can. She has a heart for encouraging others to rise up in who they are, what they're called to do, and why.
See Author Profile
But wait, there's more...