In 2011, I went on a 12-hour road trip with a few friends to explore the quaint, small town of Woodstock, NY. Personally, it was still a time of piecing myself back together having gone through divorce a few years prior. Walking into this one store, my eyes were immediately drawn to a decorative block of wood that said, "Strength and courage aren't always measured in medals and victories. They are measured in the struggles they overcome. The strongest people aren't always the people who win, they are the people who don't give up when they lose." So, I bought it and took it home with me.
This quote struck a chord as I feel like my life has been a series of struggles. So many times I felt like I kept losing and failing, yet here I am—still standing and breathing. I have overcome each and every one of those challenges.
I was diagnosed with depression when I was 22 years old. My life stopped and everything turned upside down. A repressed memory of molestation from when I was 6 years old resurfaced, my anxiety grew and my depression worsened. I lost my drive, my passion and myself. For about 6 years, I lived in denial and my world revolved around medications and hospitalizations as I tried to figure out what was wrong. I spent another 4 years finally accepting my illness, searching for the right treatment and getting to know myself again. I felt estranged from my own life for 10 years.
During those years, even though I grew up in a very strict Catholic environment with strong faith and rituals, I questioned my faith. I stopped going to church. I constantly asked God why such things could happen to me, how I could get better and what I should do. I read self-help books and listened to inspirational Christian songs over and over, almost begging for answers. Even though I had so many questions, I could not deny my faith and my belief that He was watching over me. That truth gave me my one last string of hope during those times when I was hanging on by a thread. It was enough to get me through each day, and then another, and another, until I finally recovered.
I believe there is a reason for everything. What if I was meant to share my life experiences and help those who are battling depression or struggling in life? I didn't know it then, but it makes sense to me now and I believe it has become my purpose. I know I am stronger today because of what I went through and have overcome. I am grateful for all those experiences despite the difficult days.
Now, life continues to happen. I made it through the divorce and a few years ago was blessed to meet the man of my life. We're so thankful to be married and just celebrated our 2nd anniversary. But along with the new blessings come new challenges. I miscarried my first pregnancy earlier this year. Yet even now, I am recovering.
We all go through our own struggles and it's never easy. Very often, we feel alone when we are struggling when in fact, we are never alone. We are not our struggles. We are who we decide to become. With a strong faith and the strength gained from overcoming our trials and not giving up, we can be anything we want to be!
We all have stories, and each story matters. I believe sharing your story can be powerful, because you never know how it can impact and help someone. So please keep sharing and keep inspiring. And remember, you are not alone, because I am here sharing my story with you.
I leave you with this, a chorus from one song of the "Joseph the Dreamer" soundtrack. To this day, it brings me to tears by reminding me how far I've come. It helped saved my life, and I hope it inspires you just as much as it has helped me!
"Lead me along the path
Lead me along the winding way
I trust enough to never need a why if you take me to the where
Lead me along the path,
Lead me along the winding way
I don't know what's around the corner Lord,
But I know that you'll be there."
With love + gratitude,
Elizabeth
~
Are there worries that you're facing that have severely impacted your wellbeing? Take time today and recommit them to Jesus because He cares. And know that God has also provided the gift of mental health professionals to help when needed.
While we do our best to provide you with resources that will help you in your journey as a woman on mission, please note that no article we share on mental health can replace professional help.
So
If the darkness is overwhelming and you are in need of help, please reach out to a trusted professional counselor. And, know that we love you. Each and every one of you was made in the image of God, valuable and treasured by Him, so please hold on and never give up.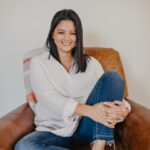 Elizabeth Tiglao-Guss is a social entrepreneur and founder of Link Of Hearts, a lifestyle brand raising awareness for mental health and making inspirational, handmade products in Los Angeles. She is also a mental illness survivor of about 15 years and now, as a result, is a big advocate for Mental Health.
See Author Profile
But wait, there's more...