We got home from the park- trying to soak in as much of the beauty of the outdoors as we can. My toddler's hair smells like Fall, and I get a good whiff of it as he rubs his head into the nape of my neck.
"Great." I think, "He's tired!"
I hurry inside and tuck him into his crib.
"Night night, Hudson." I say.
I come back downstairs and unload my 6-month-old from the car. We enter the war zone which is my kitchen. He plays on the floor while I finish the dishes. The crumbs on the counters can wait.
"Great." I think, "He's happy to play on the floor for a bit! I can write."
I sit down and begin to type. The 6-month-old cries. He's hungry.
I attempt breast-feeding while typing.
Bad idea.
Fine. I'll breastfeed and then write.
I breastfeed, and then begin to sway him to sleep.
He sticks his pudgy fingers down my shirt in order to fall asleep. Moms don't have personal space. But is there anyone we'd rather share our bubble with?
He's asleep.
"Great." I think, "I can write."
I sit down and begin typing again.
I hear my toddler upstairs. Ugh, he's not sleeping. I keep typing.
He yells, "Mooooooooooom."
Why don't toddlers sleep?
I go upstairs, a little frustrated that I can't find even 5 minutes to pour my thoughts out, and then he reaches for me. 
"Mom." He sighs, relieved to see me. I pick him up and he rests his forehead against mine. I am his safe place.
Okay. I guess I'm not frustrated anymore.
He's poopy.
I change his diaper.
He's thirsty.
I give him a sippy cup, which he now refuses to use with the lid on. I take off the lid, and he pours it down his shirt.
I clean him up and sit him in the highchair with a small bowl of mac 'n cheese because I didn't get to go to the store today, and that's the best I can do.
He feeds himself with a fork- it's adorable… and messy, but at least it will distract him while I write.
"Great!" I think, "I can FINALLY write. For just FIVE MINUTES."
Then….
the 6-month-old wakes up.
It is hilariously exasperating to be a mom. Every moment of everyday is willingly given to other people.
Little people.
They are so small, yet they control EVERYTHING. From the moment you wake up, to the moment you go to sleep…for one hour until they wake you up AGAIN… your whole soul is dedicated to making sure these little people are healthy, safe, and loved.
You may feel like your days have no meaning; or that you as an individual have lost your purpose.
You might feel ugly, stinky and gross. And you might wonder why your husband would ever want to run his fingers through your hair, which only looks acceptable because of the gallons of dry shampoo you've been using for the past 3 days.
You might wonder if you're ever again going to look in the mirror and
see the accomplished, talented, put-together person you once were.
Don't let these thoughts rule you.
You are a warrior.
You are on the front lines everyday. You are tirelessly working to turn your little people into big people who will determine the future of our world.
Don't give up, Mama. You're still you. In fact, you're a braver, stronger, more selfless you.
You're a more beautiful you, too.
And you will find time. Time to write. Or coach, or cook, or do whatever it is you're aching to find five minutes for each day. It may require you to ignore some items on your ever-growing to-do list, but you can do it.
In fact, the reason this post exists, is because my kitchen floor isn't mopped and my clean laundry is still in the washer, probably getting moldy. And that's okay.
In a world full of accomplished, so-called "perfect" people, you may feel small. But to one little person, you are their EVERYTHING.
So don't let your destructive thoughts be your judge. Let the LITTLE PEOPLE be your judge. Let them run their tiny fingers through your hair, and KISS those sticky fingers! Then look into their eyes, and know that you're doing just fine.
This is for you. The guardians of the Little People.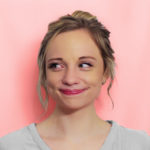 Maren is a doula and lactation consultant who loves writing about motherhood. She is also a co-host of the Both of Us Podcast. She is an earth-loving, Jesus following wife and boy mama to two Irish twins, and she wouldn't have it any other way. Follow her on Instagram.
See Author Profile
But wait, there's more...