Whatever kind of business we are building, whether it's in an office, a home office, or even managing our families, we need to base our business on solid foundation. Our approach to building a business or a family may feel upside down to the rest of the world as we lean on our faith in Christ as our foundation. A foundation built on Christ is the only foundation that will sustain us. Hebrews 10:22 says, "let us draw near to God with a sincere heart in full assurance of faith…" It can feel easier to draw near to God in the practical parts of life or our personal struggles. But God wants us to know that even in our work and building a business, He invites us to draw near to Him. He wants to help with every aspect of our lives, including our work.
Maybe you have just started a business or you have been running one for years. Wherever you are, it is never too late to ask God to be the foundation. When He is our solid foundation, that's when our business or families begin to bloom in a way that glorifies God. From that place we can have confidence that God is the manager of our work.
When He is the manager of our work, our work takes on new meaning, new zest, and new passion. When He's the manager, He guides us in running a biblically sound business or family and directs our hearts with His gentle whispers. But practically speaking, how do we make God the foundation of our work? Here are some practical steps to letting God manage your work:
1. Hold a Meeting with God
Take some time to meet with God about your business or the household you are managing. Make this meeting a focused time of you and God discussing your work. Bring your concerns, your struggles, your setbacks, and the pressures to Him. Tell Him what is going on in your heart and lay it all before Him.
2. Invite God In
After you have evaluated how things are really going in your work, invite God fully in to your work. Ask God to manage your work and all that that entails. Give Him full access to every detail.
3. Keep Your Relationship with God First
Our business, especially ones just getting started, seem to demand our full attention and all our time, right? It can feel impossible to have time with God while running a business. But God invites you to put Him first, and the rest will follow. (Seek first His kingdom and His righteousness, and all these things will be given to you as well." Matthew 6:33) Keep Him first and foremost and then, out of that place with Him, let Him guide you in your work. Keeping Him first keeps our work on the solid foundation of Christ and His Word.
4. Bring Your Questions to Him
Whenever you have a decision to make, a detail to handle, a difficult situation to diffuse, bring each and every question to God. The big stuff, the small stuff, the impossible stuff, and the practical stuff…bring it all to Him. He loves to intervene. He wants to help you manage well and when you bring all your questions to Him, He will faithfully guide you.
5. Pray for Your Business
How often do you simply lift your business or household up in prayer? Schedule a time during your week to pray for your work. Pray for God's guidance and blessing. Pray for your work relationships and the direction of your business. Pray about every concern on your heart regarding your business. When we pray, our confidence grows stronger, our peace grows deeper, and our business blooms.
6. Record His Faithfulness
As you bring God into your work as your manager, record His faithfulness each time He answers or guides you. Praise Him through it all. Watch for Him to work and when He shows off, thank Him! As you record His faithfulness, you are giving all the glory to Him.
Managing a business or a family with God as your strong foundation is a partnership. He wants to help you and partner with you to make your business all that He has in mind. He has beautiful plans to use your work for His good and His glory. Make Him your foundation and your manager, and enjoy the adventure. Partnering with Him leads to more confidence in what you are doing because He is doing it through you. Partnering with Him leads to deeper peace in your life as you rely on Him in every detail. Partnering with Him leads to a fruitful business as He becomes the One you are truly working for.
Photo by: Christin Hume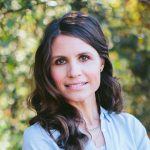 Sarah Beth Marr is a wife, mom, author, and speaker based in Dallas, TX. Sarah loves encouraging women through the dance of life and pointing them to Christ. Sarah's first book is due to release in January 2018 with Baker Books.
See Author Profile
But wait, there's more...