In the summer, my family and I normally take full advantage of our neighborhood pool. Mostly we stay in the kiddie pool so I can safely keep an eye on both my four-year-old daughter and one-year-old son. But one time, I had the chance to go to the pool with just my daughter. So I decided to use this as an opportunity to teach her to swim. When she realized my intentions were to instruct her in the big pool she asked: "Can't you teach me how to swim in the kiddie pool?"
The kiddie pool is 1 1/2 feet deep. It's where she feels the most comfortable, confident and secure. But she will never learn how to swim in the kiddie pool. It's simply not deep enough to swim. We can play there, sure. But that's all we can do. If we want to do more than just splash around, we're going to need to walk our way to the junior Olympic sized pool and get in deeper waters.
As I was explaining this truth to her I was convicted. Has that ever happened to you? You're sharing a truth with someone else and it literally feels like God is tapping on your shoulder saying, "That's what I've been trying to tell you too."
God has been taking me to deeper waters. Maybe you understand. More demands. More responsibilities. More territory. Some are blessings, while others are challenges. Still, they all require my ability to manage new grounds I've yet to conquer. I think that sometimes when we find ourselves in deep waters, we fail to realize God is trying to grow our faith, knowledge, and love for Him to the next level. A task that can't be accomplished where we are now. So He shakes things up, and He forces us to move or stay, whichever is most uncomfortable to make us stronger. God is taking us out of the kiddie pool and moving us into deeper waters to learn how to swim.
The struggles you are facing today are not to show how weak you are but to bring out the strength God is developing in you. Your obstacles are not here to drown you but to teach you how to swim. It's in deeper waters that you learn how to rise above the waves and see the very strength of God in you like never before. Because when God moves you from the kiddie pool to the big pool, you're going to pray a little harder, you're going to read your Bible a little longer and listen a little more intently. Maybe your intention is to figure out the fastest way back to the kiddie pool, but God is using this season to teach you how to overcome it.
Maybe for you that looks like ending a relationship or facing the fear of starting one. Maybe it's investing in a new business, having another child, moving to a new city or simply starting to eat more healthy. Whatever God is using to stretch you is what He's using to grow you. Isaiah 43:2 tells us:
When you go through deep waters, I will be with you. When you go through rivers of difficulty, you will not drown. When you walk through the fire of oppression, you will not be burned up; the flames will not consume you. (NLT)
If you aren't in deep waters now, at some point you will be. And when you are, you might not know how you will overcome, but you can hold on to this truth as an anchor for your soul: God is with you. And that fact alone is assurance that these waters are not here to destroy you. Quite the opposite actually. This stretching is exactly what God will use to strengthen you.
The choice is ours. We can allow fear to keep us in the kiddie pool, but then what? We have a comfortable life? That's it? Is that all we want? Or do we kick our feet, move our arms and relax so we can float above our deep waters? Do we trust God will catch us if we start sinking and experience for ourselves what awaits those who choose faith over fear?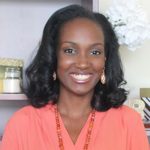 Christina is a wife and stay-at-home mom with a passion to encourage women in the love of Jesus Christ and the truth of God's Word. When she is not folding laundry or playing blocks you will find her with her head deep in her Bible or a commentary. She holds her masters in Theology from Liberty University and is the founder of Beloved Women, Inc.
See Author Profile
But wait, there's more...