Stepping out in the radiant South Dakota sun, the shower I took seemed futile as moisture immediately formed on my brow. The temperature was a raging 80 degrees plus and the humidity was palpable. But even heavier than the air was my heart hammering as if in attempt to thrust itself through the walls of my chest.
My struggle with anxiety presents itself in two different manners. Mental, an inability to control the worries, fears and lies that engulf my mind; or physical, an unexplainable physical response that often consists of a tight chest, heavy heartbeat, and shortness of breath. Some days it's one or the other, other days it's both. But on this beautiful summer day of sightseeing as my husband and I traveled our way across the Mount Rushmore state, the physical presence of anxiety was crushing.
Standing at the foot of the Sioux Falls, where an average of 7,400 gallons of water drop each second, I envisioned myself standing beneath the cascade. I could almost feel the mighty stream barreling onto my back and gushing vigorously over my body like a waterpark mushroom fountain on steroids. Toes gripping the ground and arms crossed in front of my chest, I imagined holding my breath and leaning into the rush; fully and completely immersed.
Suppressed by anxiety, I couldn't help but wish that I could feel God's peace as intensely as a waterfall pounding on my shoulders. My worries, fears and rapid heart rate wouldn't stand a chance, as they're engulfed by an immeasurable surge of peace.
2 Corinthians 9:8 says, "And God is able to bless you abundantly, so that in all things at all times, having all that you need, you will abound in every good work." (NIV) God loves us so much that He doesn't just want to bless us, He wants to bless us with all things, at all times, so that we might have all that we need.
In this world, what we receive is based significantly on what we achieve or produce. If we do this, then we'll get that. If I get my masters, then I'll make more money. If I get more followers on Instagram, then my business will boom. If I get my dream job, then I'll be happy. But with Jesus, it is the complete opposite. In John 14:27, Jesus speaks to His disciples before He dies on the cross. They are nervous about what life is going to be like without Him, and He assures them by saying, "Peace I leave with you; my peace I give you. I do not give to you as the world gives. Do not let your hearts be troubled and do not be afraid." (NIV)
The Lord does not give to us as the world gives because He gives 100% without restraint. There's no level of "if you do this, then you'll get this." He doesn't dose out his goodness at random intervals depending on where we are or what we've done. He blesses us in all things, at all times, not as the world dictates. With Him there is no such thing as sparingly; He is all about abundance.
On that blistering day in South Dakota, I realized that my daydream, my wish to stand underneath a waterfall of God's peace was not so far-fetched after all. His peace, in an overwhelming portion, was mine for the taking. God's love for us is not a trickle; it is a mighty, powerful waterfall. But, it is our responsibility to recognize that and step into its stream.
If we want to step into the abundance of God's goodness, there are two things we must do: ask and be expectant.
Ask
John 14:13-14 says, "And I will do whatever you ask in my name, so that the Father may be glorified in the Son. You may ask for anything in my name, and I will do it." Jesus teaches us that we must be active recipients; if we are struggling and want to feel His peace, or direction or wisdom, we must ask Him. He is able to give abundantly, and will give to us way beyond what the world gives, but He does want us to ask Him for it.
Be Expectant
If we believe that God is good and that He blesses abundantly, then we must be on the look out. If we are so absorbed in our anxiety, our efforts to build our business or grow our Instagram, we might not see the way He is providing an answer to our prayers. We need to trust wholeheartedly that He can provide abundantly, and wait expectantly for Him to do so.
Together, let's be people who step faithfully into the Lord's abundance. Let's look for the waterfall and allow ourselves to be fully and completely submerged.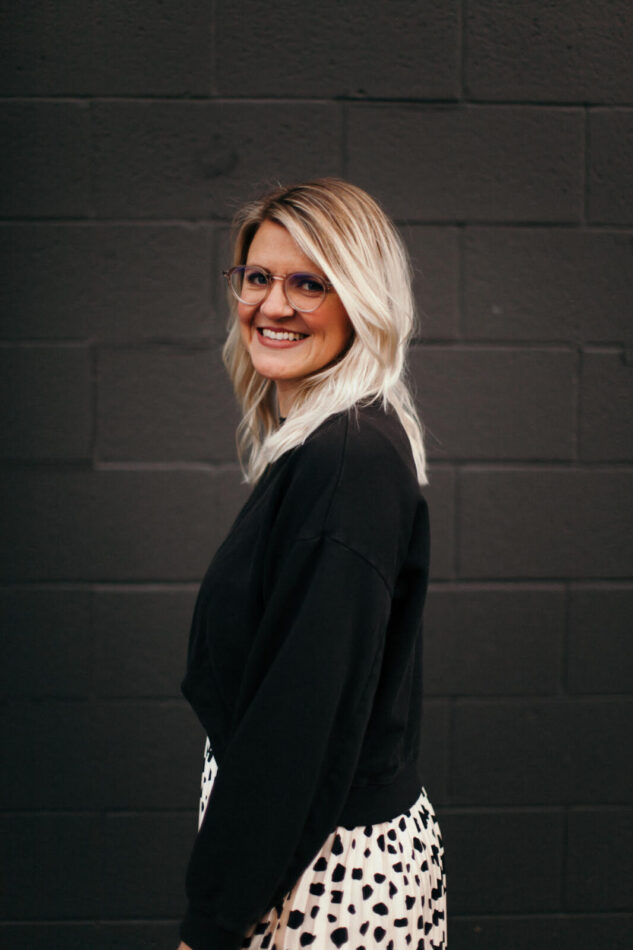 Mindy Larsen is a writer who will leave you encouraged and affirmed as she shifts your focus to Christ and helps you find peace amidst anxiety. You can find her vulnerable, hope-filled words in publications like Grit & Virtue, (in)courage, The Kindred Voice, and on her personal blog.
Mindy lives with her husband Chris, and their cat, Finn, in Wauwatosa, Wisconsin.
See Author Profile
But wait, there's more...