Everywhere I turn lately, I see reminders that we've rounded the corner on the last quarter of the year. We have fewer than 30 days left to push toward the finish line, meet our goals, and make something happen with the remainder of 2019. This year carries an extra dose of intensity as December 31 marks the end of a decade.
For many of us, this message lights a fire of focus to dig in and finish strong. For others, shining a spotlight on the past year, let alone the past ten, feels like the worst kind of exposure. We think of the list of things we hoped we would accomplish but didn't, the relationships we haven't tended to, or spiritual and emotional disconnection we still feel.
If that's you today, you're in good company. I am a wife and mom, a therapist, an Enneagram 9, and a lifelong people-pleasing perfectionist. All of these elements seem to be the perfect recipe for forgetting, avoiding, and distracting myself from what matters most to me. It's almost second nature to simply melt into the background and support everyone else.
My relationship with goal-setting is complicated. I have a history of laughing it off with lighthearted comments like, "I don't do goals," or "I'm not good at being a grown up." Over the past year, God has graciously convicted my heart surrounding this struggle. The truth is, these jokes aren't cute – they are lies that lead me to live small.
My heart longs to partner with God in bringing His kingdom to this world. I know that abundance doesn't happen by accident and that no one stumbles into a life of impact. It requires catching a vision for what God is up to and taking intentional steps to make it happen. If I want to follow Jesus fully, opting out of goal-setting is not an option.
Instead of shaming myself into attempts to try harder, I allowed myself the space to process what might be at the core of this inertia. The longer I sat with this tension in my heart, a thread began to emerge. The gap between my goals and my actual life is connected by a long chain of seemingly small, insignificant decisions – moments where I say no to myself, for others, and ultimately to God and the story He longs to write in my life.
My heart often defaults to the rhythm of no. It starts small – battles with the snooze button, unfolded piles of laundry, and uncompleted tasks. Over time, the stakes rise and the consequences grow. I put off opportunities for professional development. Weeks pass without really connecting with my family and community. Decisions become driven by duty over delight. An emotional fog sets in, and when I do feel, anxiety and resentment surface quickly. Whenever I find myself swirling in disconnection, isolation, and detachment from a sense of direction in my life, I can trace a trail of tiny no's back to the place I lost myself every time.
During this season, my husband and I began spending our Saturday mornings reading through the book of Proverbs. While I have read and re-read these pages many times, my heart was struck in a new way. The life of wisdom that is caught up in the flow of the Holy Spirit and the life of aimless disintegration hinges on a single word: but.
I'm beginning to wonder if shifting away from the rhythm of no in our lives begins with simply saying our next yes.
For me, 2019 has been an experiment in learning to say yes. I have said yes more often this year than perhaps any other season of my life – yes to things that excite me, things that scare me, and things that require a lot of hard work and endurance from me. I've experienced my fair share of stall outs, falling into the well-worn path of no once again. Along the way, I'm learning the daily decisions I need to make in order to live in the rhythm of yes.
Say Yes to Intentionality
Staying committed to our goals for the long haul requires forethought as we find space in the landscape of our actual lives to do the things we dream of. Personally, I've been trying to carve out space at the beginning of each month, week, and day to reflect, listen for God's voice, and map out what's ahead. The more I engage in these practices, I see that this time is about far more than staying organized. This space allows me to remain connected, both to my heart and God's, as I am reminded that my relationship with Him is the why behind everything I do.
Say Yes to Leaning on Others
This is a tough one. If we are going to say yes to the call of God upon our lives, we can't do it alone. Saying yes more often has required me to lean on others far more than I'm accustomed to, and I have been blown away by how my people have stepped up, stepped in, and cheered me on. Even when we don't feel it, saying yes to support invites us to live in the truth that our voices, our gifts, and our stories matter just as much as the ones of those we love.
Say Yes to Sacrifice
Living with this level of engagement is not often comfortable or immediately rewarding. Whenever we take a step toward our goals, tension and resistance will always follow. Some days, our greatest accomplishment will be simply showing up. Here, we remember that a life of yes is not about outcomes, but about the process of following Jesus, reflecting His image through our lives.
As the end of this year draws near, the sting of regret beckons us to shrink back in shame.
But.
Today is filled to the brim with fresh grace and new opportunities to say yes all over again. Each choice made in the flow of God's wisdom builds momentum, composing a unique melody we will sing not only for the next couple weeks, but for eternity. It all begins with our next yes.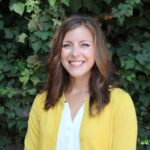 Melissa is a pastor's wife, mom, and professional counselor who loves listening to and telling stories that reveal the grace and redemptive work of God in the darkest and most unexpected places. She loves being outdoors and exploring her new community in Southern California where she lives with her husband and two little boys.
See Author Profile
But wait, there's more...