You've invested time and resources to design the perfect website, one that you've been really pleased with. It has all the right things—beautiful design, high quality imagery, and concise messaging. You post about your website on social media regularly, and tell your friends about it. You even managed to garner a decent following and see some traffic to your site. However, you notice that there is no growth.

Not seeing growth in your community can leave you feeling stuck and frustrated. It happens to all businesses, from emerging brands that are just starting to build their communities to established brands that are seeing their communities plateau. Keeping up with all the latest marketing platforms and tools can be overwhelming. You can cut through overwhelm by focusing on three foundational reasons that can hinder growth. Spend some time on creating a marketing strategy based on these three growth tenants:
You're not targeting your ideal audience: Seek out your perfect fans
Through your existing marketing, you may be targeting the wrong audience or casting too wide of a net. Think about your perfect client or customer, beyond just age and demographics. Humanize them. What is their worldview and aspirations? What does their to-do list look like? What do they read? What communities do they belong to? Will you find them offline or online? What media do they consume?
Since its founding, Patagonia has grown its business to equip a community that values silent sports. Silent sports don't require motors, don't attract big crowds, and have a special connection with the natural world. As a result, Patagonia has built a strong and devoted community by focusing on how they can market to the moments and places that matter to them.
Create your perfect customer profile. Soon you will find that you don't need to be on every social media platform, attend every networking event, or get placed in every magazine. Focus your time and resources on marketing to the moments and places that matter only to your perfect fan.
Your fans aren't talking about you: Give your fans a reason to share
Your existing fans are your strongest marketing channel. Leveraging your fans is the most effective and simplest way to expand your community. Is your story easy for your fans to share with their friends?
There are three powerful reasons why people share content: 1) They believe that your product or service could be helpful to friends. 2) It demonstrates their knowledge on a topic. 3) They want to entertain or inspire their friends.
The Dollar Shave Club puts out content regularly, so their savvy customers are compelled to share the discovery of a shaving secret with their friends. From their witty videos to their blog posts on unusual self-care tips, they are arming their customers with shareable content that demonstrates their savviness.
What is the reason your perfect fan will share about you? Think about how you can develop valuable content that your perfect fan will want to share with their friends.
You've tapped out your own community: Leverage partner communities
Collaborations and partnerships with likeminded people can help you mutually grow your communities. However, some collaborations are more effective than others.
On a recent visit with an established and well-respected brand in Southern California, we discovered that they had tapped out their own community. They had a fairly large social media following and was a proponent of collaborations. However, they realized that those they collaborated with shared the same exact communities as themselves. Their recent collaborations didn't result in growth in their respective communities, because there was a complete overlap in their audiences.
When considering a collaboration or partnership, seek out people that share similar values and philosophies as your brand. Their communities should have some overlap with your community, but not a complete overlap. This leaves room for growth and expansion for your respective communities.
Overcoming these obstacles may seem difficult, but it's totally doable. It just takes some time to step back and focus on a few foundational things that can drastically change your business.
Where are you on the trajectory of growth? What can you do this week to help reach new readers?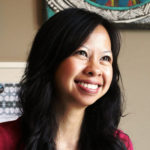 Stephanie David is the founder and CEO of POPNOD, a marketing studio that champions brands with purpose. Dahlia Joseph is POPNOD's social media and influencer lead. Through creative campaigns and marketing strategies, POPNOD exists to help the stories that matter be heard.
See Author Profile
But wait, there's more...